What an active pattern we've been in. After this Saturday's event, we will have had wintry weather fall 3 different times over a span of 7 days in Virginia. These storms haven't taken ideal tracks to produce blockbuster snows in Virginia, but still enough to give some areas across northern Virginia already nearly half of their average season snowfall totals. For example, Winchester's average season snowfall is 22.3". They received nearly 11" combined from the Sunday and Tuesday storms. They will have the opportunity to add to this Saturday.
A southern branch system will track out of the southwestern region of the country towards the Tennessee Valley. We will once again be dealing with warm, moist air overrunning colder air in place at the surface. This should be enough for a period of snow and sleet across much of the western areas of Virginia before changing over to a bit of freezing rain and eventually rain. Below is the 12z NAM model prediction of how things may play out: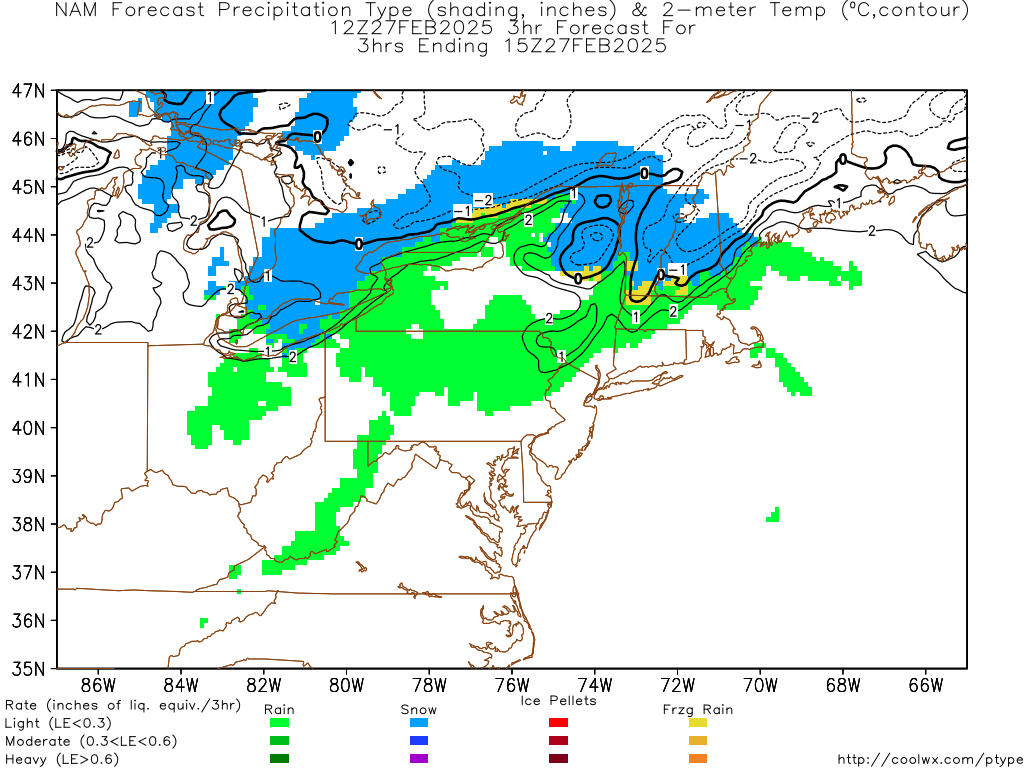 And the 12z Canadian:
The primary low will track to our west allowing warmer air to work in aloft. The southern stream shouldn't phase with the northern stream until its well north of our area, so any secondary low probably won't form off the coast until its north of the Mason Dixon Line. This will prevent this from being a significant snow storm down here, but like we saw with the Sunday system when Winchester picked up 6.5" of snow, sometimes the cold air during a cold air damming event can be stubborn to budge. The air mass leading up to this storm is also expected to be colder, and it must be remembered that many of these areas will have a light snow pack still on the ground-potentially locking the colder air in place even longer. Here's what I'm thinking right now. I think we'll see a few of the colder areas of far northwest Virginia hang onto cold air long enough to get moderate snow amounts out of this. I don't expect this to produce significant freezing rain amounts anywhere because upper levels are going to initiallly be below freezing (producing sleet/snow). Once they're above freezing, the surface should be above freezing as well.